Within Temptation have revealed a lot of new information about their forthcoming album "The Unforgiving" which
will be released in the end of March 2011.
As everybody probably already know the album is going to be based on a comic book series, written by Steven O'Connell (BloodRayne & Dark 48) and it will be a concept album. Comic artist Romano Molenaar (Witchblade, Darkness and X-men) draws the characters and scenery.

Within Temptation stated on their web page that:
"On this album, we've taken a totally different approach. Each song on "The Unforgiving" was written along Steven's narrative. The main characters of the comic are reflecting the characters of our songs. The concept pushed us and gave inspiration to come up with a new approach in our sound. It resulted in writing our best songs so far.
We have been big comic fans since our childhood. With this album we felt the time was there to take a new step in our creative development, take it further and broaden our horizon. Next to the concept form of the album, the songs are more divers than ever before. In addition, the music of the late 80ies, that's when we started to read comic books, certainly has left a mark on our new sound.
"
You can read five prequel pages from the comic from here.
Watch below the brand new trailer for "The Unforgiving"
The album cover: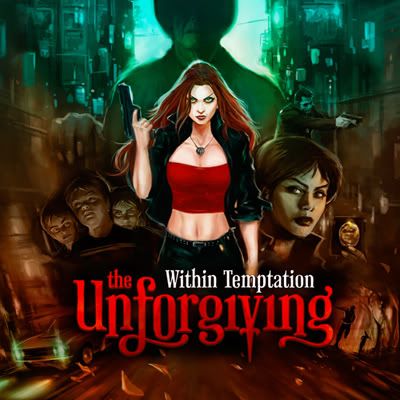 Track-listing for "The Unforgiving"
1. Why Not Me
2. Shot In The Dark
3. In The Middle Of The Night
4. Faster
5. Fire And Ice
6. Iron
7. Where Is The Edge
8. Sinéad
9. Lost
10. Murder
11. A Demon's Fate
12. Stairway To The Skies

Video from "Where Is The Edge" from the forthcoming album "The Unforgiving". The band's first single will be out in January 2011.
More info about Within Temptation and their new album "The Unforgiving" can be found on their official web site.

| | | | | | |
| --- | --- | --- | --- | --- | --- |
| Date | City | Venue | | | Moved from: |
| 21-1-2011 | Rotterdam (NL) | Vrienden van Amstel | | | |
| 22-1-2011 | Rotterdam (NL) | Vrienden van Amstel | | | |
| 23-1-2011 | Rotterdam (NL) | Vrienden van Amstel | | | |
| 26-1-2011 | Rotterdam (NL) | Vrienden van Amstel | | | |
| 27-1-2011 | Rotterdam (NL) | Vrienden van Amstel | | | |
| 28-1-2011 | Rotterdam (NL) | Vrienden van Amstel | | | |
| 29-1-2011 | Rotterdam (NL) | Vrienden van Amstel | | | |
| 13-8-2011 | Hildesheim (D) | M'era Luna | | | |
| 21-9-2011 | Heerhugowaard (NL) | Waerdse Tempel | | | 25-2-2011 |
| 23-9-2011 | Tilburg (NL) | 013 | | | 27-2-2011 |
| 25-9-2011 | Tilburg (NL) | 013 | | | NEW SHOW |
| 27-9-2011 | Amsterdam (NL) | Paradiso | | | 28-2-2011 |
| 28-9-2011 | Amsterdam (NL) | Paradiso | | | 1-3-2011 |
| 29-9-2011 | Groningen (NL) | Oosterpoort | | | 6-3-2011 |
| 6-10-2011 | Lille (F) | l'Aéronef | | | NEW SHOW |
| 7-10-2011 | Nantes (F) | Zenith | | | NEW SHOW |
| 8-10-2011 | Lyon (F) | Transbordeur | | | NEW SHOW |
| 10-10-2011 | Madrid (E) | La Riviera | | | 25-3-2011 |
| 11-10-2011 | Porto (P) | Coliseum | | | NEW SHOW |
| 12-10-2011 | Lisbon (P) | Coliseum | | | NEW SHOW |
| 14-10-2011 | Barcelona (E) | Razzmatazz | | | 24-3-2011 |
| 15-10-2011 | Toulouse (F) | Le Bikini | | | NEW SHOW |
| 17-10-2011 | Milan (I) | Alcatraz | | | 22-3-2011 |
| 18-10-2011 | Zurich (CH) | Volkshaus | | | 21-3-2011 |
| 20-10-2011 | Vienna (A) | Gasometer | | | 18-3-2011 (original venue: Arena) |
| 21-10-2011 | Prague (CZ) | Kd Vltavska | | | NEW SHOW |
| 22-10-2011 | Krakow (PL) | Studio | | | NEW SHOW |
| 23-10-2011 | Warsaw (PL) | Stodola | | | 15-3-2011 |
| 25-10-2011 | Copenhagen (DK) | KB Hallen | | | 11-3-2011 (original venue: Vega) |
| 26-10-2011 | Gothenburg (S) | Trädgårn | | | NEW SHOW |
| 27-10-2011 | Stockholm (S) | Arena | | | 9-3-2011 |
| 28-10-2011 | Oslo (N) | Sentrum | | | 10-3-2011 |
| 4-11-2011 | Luxemburg (L) | Rockhal | | | 1-4-2011 |
| 5-11-2011 | Kerkrade (NL) | Rodahal | | | 2-4-2011 |
| 6-11-2011 | Paris (F) | Zenith | | | 27-3-2011 (original venue: Le Bataclan) |
| 8-11-2011 | Birmingham (UK) | Academy | | | NEW SHOW |
| 9-11-2011 | Manchester (UK) | Academy | | | NEW SHOW |
| 10-11-2011 | Glasgow (UK) | Barrowlands | | | NEW SHOW |
| 11-11-2011 | London (UK) | O2 Academy Brixton | | | 30-3-2011 (original venue: O2 Shepherd's Bush Empire) |
| 13-11-2011 | Brussels (B) | Ancienne Belgique | | | 31-3-2011 |
| 15-11-2011 | Stuttgart (D) | Longhorn | | | NEW SHOW |
| 16-11-2011 | Cologne (D) | E-Werk | | | 28-3-2011 |
| 19-11-2011 | Hamburg (D) | Docks | | | 13-3-2011 |
| 21-11-2011 | Berlin (D) | Columbiahalle | | | 14-3-2011 |
| 23-11-2011 | Dresden (D) | Schlachthof | | | 17-3-2011 |
| 24-11-2011 | Munich (D) | Tonhalle | | | 20-3-2011 |
| 25-11-2011 | Frankfurt (D) | Hugenottenhalle | | | NEW SHOW |