Sons Of Seasons announced the details about their new album
.
Sons Of Seasons announce April 1st, 2011 as the official release date for their second studio album "Magnisphyricon". Like it's predecessor the album will be released by Austrian Metal Label Napalm Records.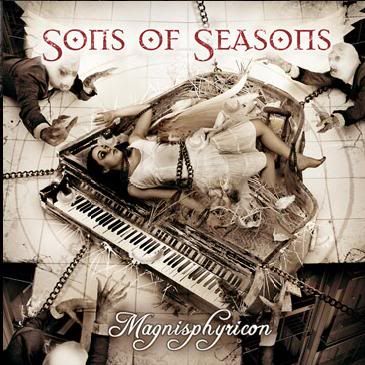 01. Magnisphyricon: Temperance
02. Bubonic Waltz
03. Soul Symmetry
04. Sanctuary
05. Casus Belli I: Guilt's Mirror
06. Magnisphyricon: Adjustement
07. Into the Void
08. A Nightbird's Gospel
09. Tales of Greed
10. Lilith
11. Casus Belli II: Necrologue to the Unborn
12. Magnisphyricon: The Aeon
13. 1413
14. Yesteryears
"A Breathtaking Sound Universe Of Progressive Symphonic Metal. SONS OF SEASONS steps into the limelight once again to deliver a second album that is even more impressive than their debut. "Magnisphyricon" is not a mere continuation of their chosen path, but rather a bold step into unexplored musical territories. Led by mastermind Oliver Palotai (Kamelot, Doro), the band performs the difficult feat of balancing technical prowess with memorable melodies. Some of the best examples of this gripping mix of musical complexity and headbanging quality are "Soul Symmetry" and "Tales of Greed". The new songs also provide Henning Basse (Metalium) a forum in which to prove his vocal talents and ennoble the album with sweeping renditions. Simone Simons (Epica) again lends her captivating voice, making the track "Sanctuary" one of the album's undisputed highlights. The powerful and lively production completes the listening experience and gives the tracks their crystal-clear quality. "Magnisphyricon" is a profound and multifaceted melodic symphonic metal album that will whisk you away to a breathtaking sound universe."