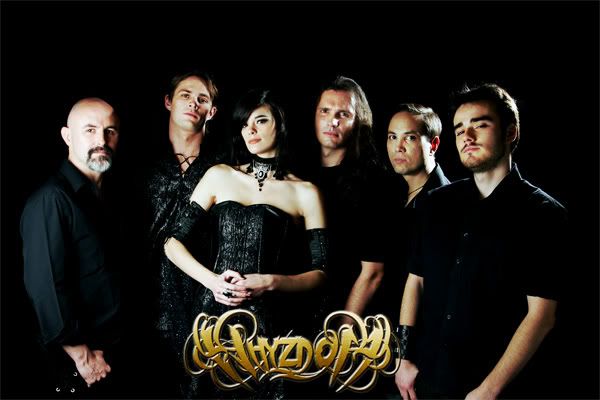 Whyzdom Philharmonic Metal (!!) band from France, after the addition of their new vocalist Clémentine Delauney on December 2010,
announced the title of their forthcoming album to be released in 2011:
"We have some very good news to announce today : the title of our forthcoming album was chosen, and we decided to reveal it right away. It is dedicated to people who follow misleading paths, misguided by the ones who love or hate or try to control them, or even sometimes by their own pride. We are pretty convinced that each and everyone of us can recognize him or herself in this situation one day or the other. Following this idea, we called this album :
"BLIND ?"
We are even happier to announce that the recording sessions will start on 21st Feb. 2011. The whole week (and more if needed) will be dedicated to drums. Other sessions will follow until spring. Mix and mastering should be done during summer. We expect to release BLIND ? late 2011.
In the mean time, we will play some gigs in France and Europe :
10/05/2011 Paris, La Scene Bastille
30/05/2011 Femme Metal Festival in Birmingham (UK)
sept. 2011 : 2 dates in Belgium to be confirmed
+ more to be confirmed soon."
Whyzdon was founded by the guitarist and orchestrator Vynce Leff in early 2007. After recruiting the band members, a first EP "Daughter Of The Night" was recorded less than 6 months from the band's inception.
Whyzdom won the Metal Female Voices Fest Contest in Belgium in October 2008. They played in the 7th edition of this great Festival (17/10/2009) and also played as official support to Delain to launch their début album.
In June 2010, Whyzdom lead vocalist left the band. Lisa Middelhauve (!!!!), former Xandria singer, accepted to be "guest lead vocalist" for the band performance at the RAISMES FEST 2010 and for their concert in Paris as support for Tarja Turunen during her "What Lies Beneath Europe 2010" tour
In December 2010, Clémentine Delauney joined the band as lead vocalist, ready to record the new album to be released in 2011.
An excellent cover of the traditional Irish balad "Bonny Portmore
". many of you probably know the song already from
Loreena McKennitt. It is completely unrelated to their forthcoming album. Enjoy !