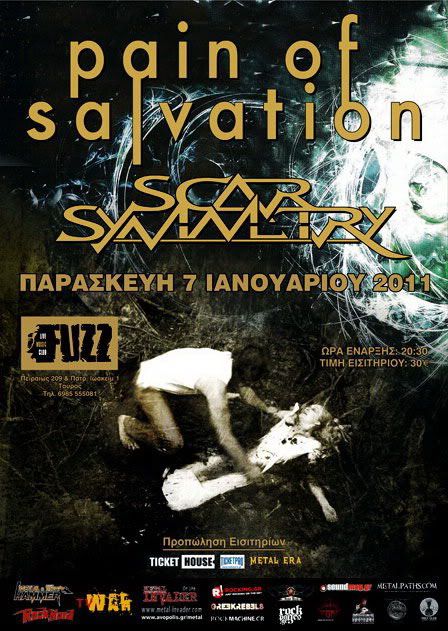 Pain Of Salvation / Scar Symmetry Live in Athens.
Friday 07 January 2011
Fuzz Club, Tavros, Athens, Greece
I was late on more time to arrive so I missed most of Scar Symmetry's performance. Scar Symmetry is a Swedish progressive/death metal band.
Fuzz Club was not full at the time I arrived but people kept coming.
Pain Of Salvation delivered a great performance playing songs from their entire catalogue for more than two hours, something they are well known for.
I had the opportunity to see them live for the first time and this made me appreciate their music even more.
They played two Dio covers, one of them being a "jazz" version of "Holy Diver". I don't know how that will "sound" to Dio's fans, but for me it was on more example of the diversity of Pain Of Salvation and not always walking the "easy" path.
Setlist
for Pain Of Salvation:
1.) Remedy Lane / Of Two Beginnings
2.) Ending Theme
3.) People Passing By
4.) Linoleum
5.) Ashes
6.) Diffidentia
7.) Welcome to Entropia / Winning A War
8.) No Way
9.) Road Salt
10.) Of Dust / Kingdom Of Loss
11.) Falling / The Perfect Element
Encore:
12.) Come Together [The Beatles cover] / Superstition [Stevie Wonder cover] / Don't Talk to Strangers [Dio cover] [Medley]
13.) Holy Diver [Dio cover, jazz POS version]
14.) Nightmist
You can download the entire performance, excluding the final song "Nightmist" which was not recorded properly due to various "technical" problems, of Pain Of Salvation in audio from here.
Take a look at a few photos from Scar Symmetry's live below: