The funding of "Shine" was a huge success, that was obvious from the first days of the project ofcourse. It received an overwhelming support from the fans, and there is $ 10.000 pledged from an initial goal of only $ 3.000 !
The advance CD-R's for the the people that contributed more than $100 are ready and shipped. Probably all (or most at least) of them already have received them.
The important thing though is that the final artwork is ready and there is a preview of it in the Kickstarter's page.
The preview is open for all visitor's not only for "backers", that is why I am reposting images here, I would not want to "spoil the surprise" if this was intended only for "backers".
You can "get a taste" of how "Shine" is sounding, from the video below.
Here are some comments on the design from Alessandro
Falca of Conte di San Pietro,
the talented graphic designer, who Kevin is working with for the artwork of "Shine"
:
"Realizing the artwork for a movie soundtrack is about finding the right mood of the music featured in it, not necessarily in a one-way road to the imagery of the film. Küçük Kıyamet is an excellent specimen of cinema, both visually and conceptually, with a brilliant soundtrack; the challenge has been creating something with its own heartbeat, with several interpretations on different levels."
Alessandro is currently working on the poster and T-shirt design. The digipack is now finalized and will go to the manufacturer next week. Kevin is hoping to ship pre-orders late this month or in early December.
Below are two more images from the 6-panel digipack of "Shine"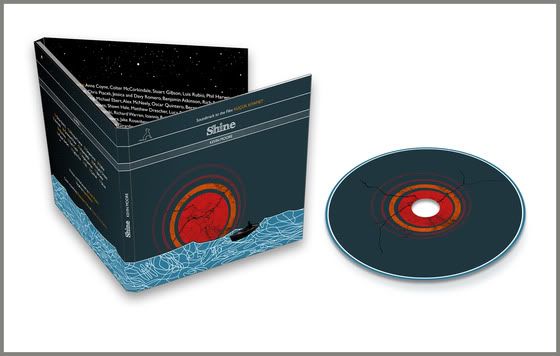 Here is the "Shine" track list:
01. Shine (Intro)
02. Window Theme
03. Departures
04. Uyku
05. Arrivals
06. Graveyard View
07. Hypnogogic
08. Mosquito Dream
09. Korkma
10. Zeki Cycle
11. Hypnopompic
12. Bulutlar
13. Mezar Isimleri
14. Lights Out
15. Sh
16. Çıkmak
17. Shine
Vocals on 17 (and in the video above) by Bige Akdeniz.
Kevin stated also that:
"This has proven to be a great way to work independently, since you can gauge interest in a project before spending thousands of dollars producing it. .....
I have more projects in mind so please sign up to the mailing list at chromakey.com if you'd like to be notified about them." So don't hesitate, sign up and be always informed.