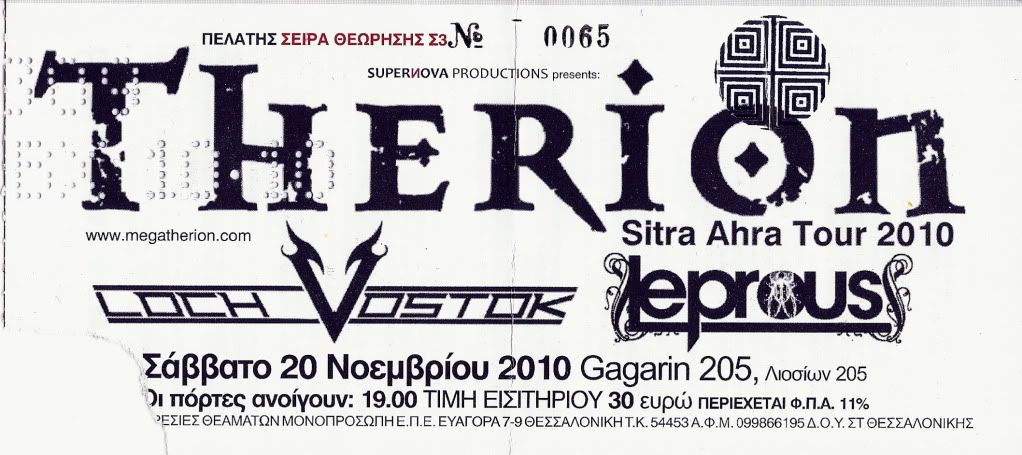 Therion / Loch Vostok / Leprous Live
In Athens Saturday 20 November 2010, at Gagarin 205, Athens, Greece.
I arrived late at the venue so I totally missed Loch Vostok. I was in time five minutes before Leprous start performing. I had read on interviews that they were a progressive band, band I have not heard their music. They describe themselves as Norwegian avant-garde progressive rock and metal (!). I have to say I agree with that. Although most of the people did not know them, they managed to "warm up" the crowd, and everybody responded very well to Leprous. I liked them a lot, they are really heavy, the guitar parts was impressive enough, the vocals a mix of clean / melodic / brutal / screams. The least I have to say is they are original. I will keep an eye on them and check out their next release which will be soon enough.
After Leprous it was time for Therion to "land" on the stage. They started the set list with Sitra Ahra from their new CD. The fans where enthusiastic the entire duration of Therion's show. They kept signing along the songs. Therion was really good on stage, with the vocalist giving an excellent performance. They have all their "theatrical" elements too with costumes etc.
They were professionals on stage, and the sound was really good. The played many of my favourites too like "
The Perennial Sophia", "
To Mega Therion", "
The Rise of Sodom and Gomorrah", "
The Blood of Kingu
"and "
Lemuria".
The setlist had songs from the latest "
Sitra Ahra" CD, plus many of the old favourites. Of course they could not play everything, because they would need a live week to do that, but they pleased most of their fans. It was a night to remember !
Everything about Therion on their official site.
Below is the video I made of "Lemuria"
1.) Sitra Ahra
2.) Wine of Aluqah

3.) Typhon

4.) The Perennial Sophia

5.) Hellequin

6.) Nifelheim

7.) The Siren of the Woods

8.) Voyage of Gurdjieff (The Fourth Way)

9.) Ljusalfheim

10.) Dies Irae
(Wolfgang Amadeus Mozart cover)
11.) Ginnungagap

12.) Kali Yuga, Part 3

13.) Call of Dagon

14.) Clavicula Nox

15.) Enter Vril-Ya

16.) The Blood of Kingu

17.) Lemuria

18.) Abraxas

19.) Unguentum Sabbati
Encore:

20.) The Rise of Sodom and Gomorrah

21.) To Mega Therion
You can download the entire Therion - "Live in Athens 2010" in audio only from this link:
As always a few photos from a great evening below.