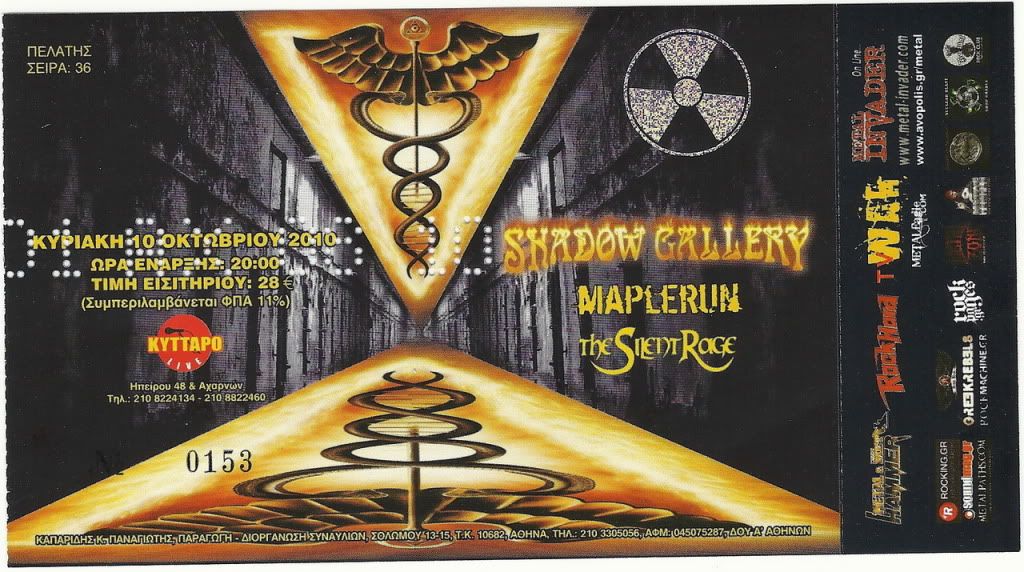 Shadow Gallery /

Maplerun

/ The Silent Rage

Live in Athens. Sunday 10 October 2010, Kyttaro Live, Athens, Greece.
The show started probably around 20:00 as it was scheduled, but I arrived a bit late (20:20) at the venue so I missed almost the entire performance of The Silent Rage, which it was a pity since the few minutes I managed to watch them they sounded a very interesting band.

Kyttaro Live is a nice venue, not that big but not too small also :) It has a nice "balcony" where you can watch the stage from an elevated position. I always like that in venues. The sound was bearable but nothing special once more.

Then it was the time Maplerun, I have checked them on MySpace etc before going to the show and they did not make impression to me. I have to admit they sounded much better live. Their sound is "original" and I dare to say "distinctive", it is a band that needs attention listening to their music. I am sure that it is not an "easy listening" band. I definitely going to give them a few more listens now, my first impression does not make them justice.

Shadow Gallery ...
That was really a blow in the head for me. I am not a big fan of the band I only have their last CD "Digital Ghosts" with their new vocalist, and I did not really know what to expect from them, since I don't know much of their history too.
I will only say one thing, after watching them live, I am already trying to get my hands on the rest of their discography.
These guys are really amazing on stage, full of energy, "communicating" with the crowd. Technically they were almost flawless, a fear I got for many progressive bands, that on stage they may not perform their songs as "intended" and loose much compared to the "studio" versions. But for Shadow Gallery case all my fears were gone after listening to the first song.

The solos were impressive, all of them keyboards - guitars - drums, even improvising sometimes on stage. To be honest the performance, and the even the "looks" of the artists ,reminded live of some other era.
All of them play more than one instrument and they do that on stage, having the vocalist and the keyboardist playing guitar solos. Even taking the place of the drummer for a while :)
I am impressed, and I am really glad I attended that show although Shadow Gallery "was" not one of my most favourite bands.
I had a wonderful time and it was a GREAT show. Hope I will have the chance to see them again in the years to follow.
Setlist:
Stiletto In The Sand
War For Sale
Mystery
Deeper Than Life
Pain
Questions At Hand
Ghost of a Chance
Keyboard Segue
Andromeda Strain
Crystalline Dream
Haunted
Encore:
Room V
Gold Dust
A few photos from yesterday's live: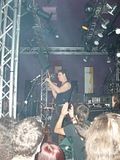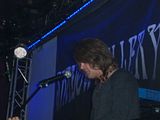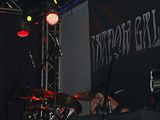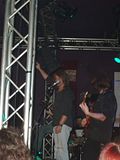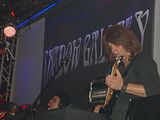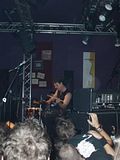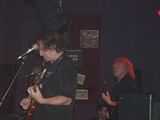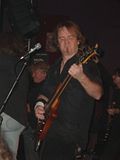 The audio part of the entire performance of Shadow Gallery can be downloaded from
HERE.