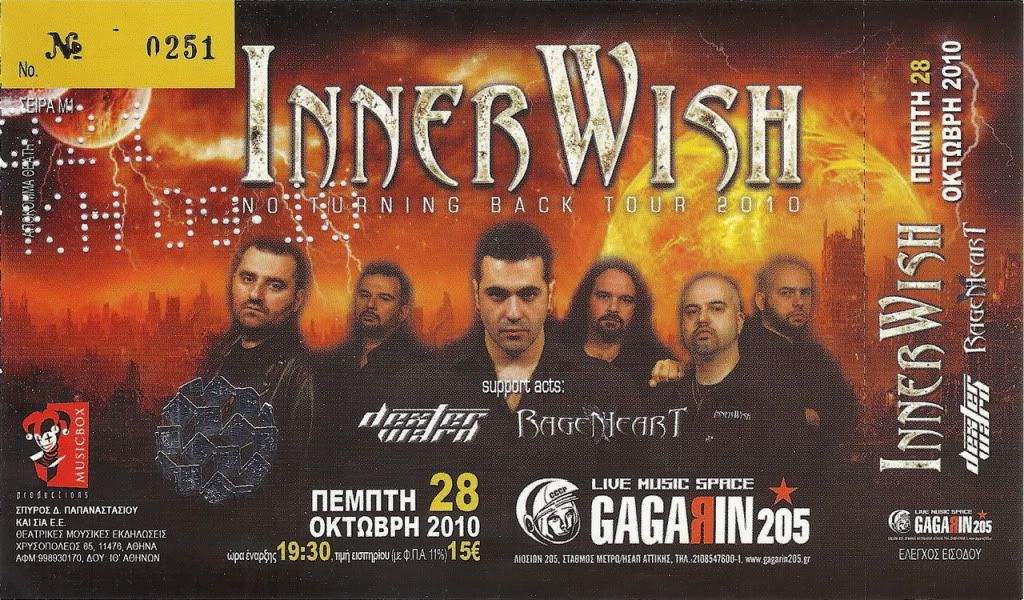 InnerWish / Dexter Ward / RagenHeart Live In Athens Thursday 28 October 2010, at Gagarin 205, Athens, Greece.
The doors opened around 20:00, and RagenHeart appeared in stage about 30 minutes afterwards
.
I have never heard them before and they where a really nice surprise.
A classic heavy / power band they perfomed well on stage and I enjoyed their music. They played two covers too, amongst their own songs, from Dio and Judas Priest, especially Dio's "One Night In The City" sounded amazing well. Their vocalist has a great clear voice.
They have recently released their eponymous first album from metal-on-metal records, which it was available to buy at the live too. I grabbed one after the live since they made much impression to me on stage and I have to admit they album is very good too. I am listening to it now.
You can find more info about RagenHeart and listen to a few samples too from here:
After a while Dexter Ward appeared on stage, they made a strange impression from the start from me, although they performed well and their vocalist / front-man really tried a lot to "communicate" with the audience, they did not impress me. After RagenHeart and while waiting for InnerWish to come on stage I suppose I was hoping for something different. They played Dio's "We Rock" cover also.
And it was time for InnerWish. They were full of energy, communicating with the audience, obviously they were many "hardcore" fans in the front row.
They were impressive and they played songs from the last album "No Turning Back" plus many from their previous albums. The sound was good, and we could hear clearly the music and the vocals. A great performance from InnerWish.
For more news about InnerWish go to their official site:
Setlist:
The Signs Of Our Lives
Chosen One
Eye Of The Storm
Burning Desires
Silent Faces
Bleeding Soul
Lonely Lady
Last Breath
Feel The Magic
Lord Of Truth
Live For My Own
Dancer Of The Storm
Sirens
If I Could Turn Back Time
Kingdom Of Our Prime
Spacerunner
Encore:
Never Let You Down (acoustic)
Have You Ever...? (acoustic)
Lawmaker
Ready For Attack
You can download the entire performance of InnerWish as audio from
here.