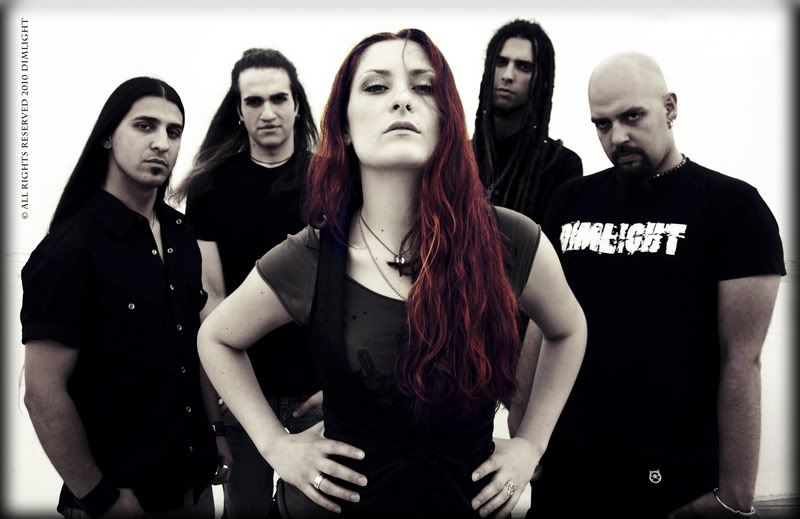 Daylight Misery / Dimlight / Fallen Arise live. Saturday 18 December 2010 at 7 Sins Club, Athens, Greece.
I have to add firstly that Daylight Misery played after Dimlight but I had to leave and I did not have the chance to watch them. Also Scar Of The Sun was supposed to be playing too but due to health problems there performance was cancelled.
The first band that took place on the stage was Fallen Arise. They played six of their songs plus a cover of Nightwish.
I have seen them recently and as always they stood very well on the stage. They started with their "Intro / My Fall". The sound, overall was decent but could be better. Then it was two more songs "Ethereal / Night Touched', followed by their ballad "Never Forget Me" performed only with keyboards and Evelyn singing. I wish I could listen this song played on a real piano once !
"Eternal Sins" followed and then the Nightwish cover "Beauty And The Beast", a songs that "fits" their male / female vocalist duo perfectly.
They closed their performance with their "hit", and my favourite along with "Never Forget Me", "Heaven's Away" !
Here is the video of "Heaven's Away" from the live, published on Fallen Arise official
YouTube channel.
Their forthcoming CDs, as mentioned on my previous post also, will be released early on the 2011, so stay tuned !
To stay informed about Fallen Arise and listen to their songs visit their official MySpace page. You can find them also on Facebook from here.
Next it was Dimlight's turn to get up on stage. Their bass player did not join them on stage, so they had to perform with some parts pre-recorded. Their opener was their "Preludium" & "Path Of Ritual". At first the crowd was a bit "cold", but at the next song "Dimlight" and having Dimlight already doing the best to warm up the crowd, we "woke up" !
The sound was much better than Fallen Arise, although that was due partially to missing their bass player and Dimlight's pre-recorded parts.
Next it was time for "Absence Of Light" and "Lost In A Dream".
They played eight of their songs, six of them from their album "Obtenebration" plus two new ones that will be included on there next album due to be released in 2011.
Dimlight was very impressive on stage, performing as a group, and with professionalism. Their live performance was "solid" and with good communication with the crowd they managed to "set us on fire". I really enjoyed every and all of their songs. And the two new ones was really good, I will be looking forward for their next album release.
They had also a special merchandise offer on the live, for their CD and their t-shirt. I did not loose the chance of course and got them both !
Don't worry though you can always visit Dimlight's official page to order yours though from their official page.
Listen to Dimlight's music from their MySpace page:
Fallen Arise setlist:
7.) Beauty And The Beast (Nightwish cover)
8.) Heaven's Away
Dimlight setlist:
1.) Intro
2.) Path Of Ritual pt 1 Confession
3.) Dimlight
4.) Absence Of Light
5.) Lost In A Dream
6.) R.I.D.
7.) Dark Emotion
8.) Agonize [New Song]
9.) Lucid Dreams [New Song]
You can download selections from the audio part of the live
, both Dimlight and Fallen Arise performances,
from here.
And finally few photos from the live: